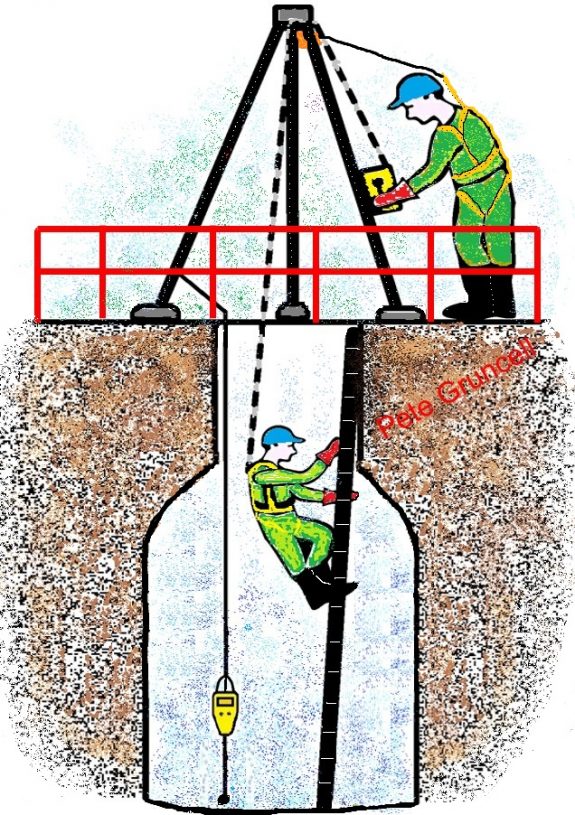 COVID19 Confined Spaces Training Resumes
Training has now resumed with additional control measures such as:
All training done on-site, class limited to 3-8 delegates, Temperature checks, Hand sanitiser, Gloves, Facemasks, and Overall issued to each delegate, Individual equipment, strictly no sharing and practical done in pairs not groups.
3 delegates £550, 4 delegates £750, 5 delegates £900, 6 delegates £1100, 7 delegates £1300, 8 delegates £1500
Price includes £50 City & Guilds E-Certificate &

personal

ID card, all equipment, use of  our Mobile Training Unit. No VAT to pay, just add my travel from anywhere in UK to SN32BD at 65ppm
6150-51 Low Risk Level 2 Confined Spaces Course (1 Day)
The one day course is the lowest entry level training course which includes both theory and practical. The theory covers legislation, confined spaces and classifications, paperwork, gas monitors and alarm levels and fall arrest equipment. The practical element will include an entry into a confined space utilising the monitor and fall arrest equipment where the entrant will maintain line of sight with the topman. Note this does not include use of the escape breathing apparatus and typically only one person will be entering the chamber remaining attached to the fall arrest equipment.
Individual cost £40 C&G Registration + £ 155 = £195 plus travel, reduced rates for 6 or more delegates, no VAT to add (Min day fee £350 plus travel)
Above prices assume payment is made within 14 days of training, otherwise different tariffs apply