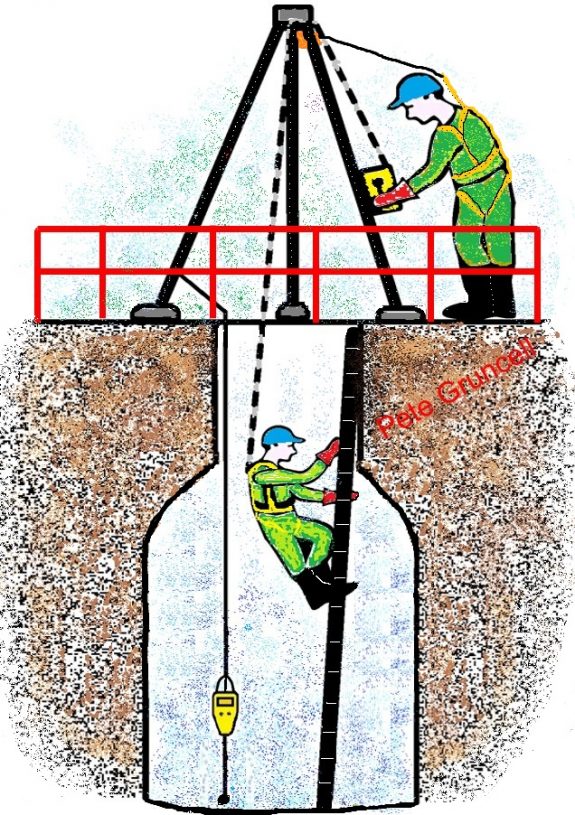 Covid19 – Safety Measures
All training done on-site, minimising contact with other people. All courses limited 8 delegates, temperature checks, hand sanitiser, and facemasks. Overalls are available and each delegate will have their own set of equipment, no sharing.
6150-51 Low Risk Level 2 Confined Spaces Course (1 Day)
Current offer: (Inc VAT  & £50 C&G Registration pp) 3 delegates £702, 4 delegates £936,
5 delegates £1150, 6 delegates £1362, 7 delegate £1568, 8 delegates £1768, plus my travel costs 
The one day course is the lowest entry level training course which includes both theory and practical. The theory covers legislation, confined spaces and classifications, paperwork, gas monitors and alarm levels and fall arrest equipment. The practical element will include an entry into a confined space utilising the monitor and fall arrest equipment where the entrant will maintain line of sight with the topman. Note this does not include use of the escape breathing apparatus (EBA) and typically only one person will be entering the chamber remaining attached to the fall arrest equipment.
Exc VAT £195 / Inc VAT £234  Includes all training and equipment, plus C&G registration and card. Reduced rates for 6 or more delegates, (Minimum day fee £450 plus travel)
Above prices assume payment is made within 14 days of training, otherwise different tariffs apply